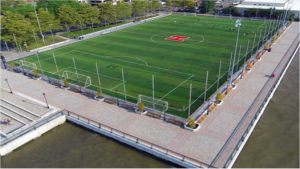 Hosting some of the more prestigious teams in the International Champions Cup runs from July 19-30th in various regions of the United States. If you are a soccer fanatic, use this guide to get clued in on one of the biggest international soccer tournaments of the summer.
What Is The ICC?
The International Champions Cup was founded in 2013 by Stephen M. Ross and Relevant Sports. The original tournament included Real Madrid, Juventus, Chelsea FC, AC Milan, Inter Milan, Valencia, LA Galaxy, and Everton. In 2014, the tournament doubled in size and was played around the United States and Canada. In the following years, the competition expanded, including teams from even more parts of the world and playing games in the United States, Canada, Sweden, and the United Kingdom.
Where will the games be played this year?
Game venues are scatted all over the United States, so be sure to book your stay in the right city when you purchase your ticket. Venues include:
Camping World Stadium - Orlando, FL
Comercia Park - Detroit, MI
Fedexfield - Landover, MD
Gillette Stadium - Foxborough, MA
Hard Rock Stadium - Miami, FL
Levi's Stadium - Santa Clara, CA
Los Angeles Memorial Coliseum - Los Angeles, CA
Metlife Stadium - East Rutherford, NJ
Nissan Stadium - Nashville, TN
NRG Stadium - Houston, TX
Red Bull Arena - Harrison, NJ
What Are Some Of This Year's Highlights?
Ronaldo or Messi? Real Madrid and Barcelona will face off at Hard Rock Stadium in Miami on July 29th. According to the ICC website, this is the first time that this El Classico matchup has happened outside of Spain since 1982. You can also see Manchester United and Manchester City face off on July 20th, taking local competition to NRG Stadium in Houston.
How Can I Get Tickets?
You can snag tickets for individual matches on the ICC website. You will be able to select various delivery options including mail, email, or UPS. According to ICC, children who are older than two-years-old need to have tickets as well.
Whether you cheer for the legends of Spain or root on the footballers in Sweden, international tournaments are a unifying experience for all fans. Globally, 25 million kids play soccer each year. The players in these tournaments are an exemplary influence for all young spectators, whether in person or on television.